Typical bow 157.3 12 point
by Andrew Taylor
(Erie county)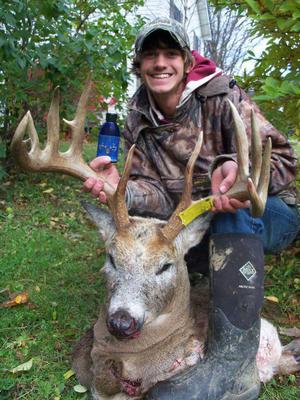 Picket Fence
It was November 1st 2013 sitting in my stand where 3 days prior I seen the buck we call picket fence. It was a rather slow night and getting close to the end of shooting light when I turned around to see some deer behind me. When I grabbed the binoculars and looked I instantly knew what buck was standing behind. The only problem was he was with 3 does. So I grabbed my bleat call and hit it 3 times and to my surprise the big boy turned and started my way.


By this time I was already thinking about the shot and not looking at his antlers. The buck came out at 30 yards and stood perfectly broadside after taking his sweet time doing a scrape under some apples trees which made the buck fever even worse. My shot ended up being perfect the buck ran 75 yards and I got to here him crash.
Twenty days later during gun season I took a good 9 point out of the same stand also with my bow
Join in and write your own page! It's easy to do. How? Simply click here to return to Buck Photo Submission.