Typical Bow
by ROBERT CROUCH
(CORNING, NY, STEUBEN )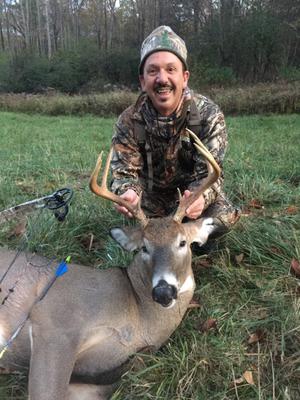 8-PT BUCK BOW KILL BY RATTLE AND GRUNT TACTIC. ON OCTOBER 28, 2016 AFTER GETTING OUT OF WORK I CLIMB INTO MY TREE STAND A 4:30PM. IT WAS A COOL EVENING SO I THOUGHT I WOULD BRING MY RATTLING HORNS TO TRY TO SEE IF I COULD GET A BUCK I HAVE BEEN SEEING ON MY CAMERA THAT HAS SHOWED UP AT 4:30-5:30 IN THE EVENING.

I STARTED TO RATTLE AT ABOUT 5PM AND RATTLED FOR ABOUT 2-3 MINS. THEN I HIT MY GRUNT CALL 2-3 TIMES. AFTER WAITING FOR ABOUT 10 MINS. I DECIDED THAT I WOULD TRY AGAIN. I DECIDED TO HIT MY GRUNT CALL BEFORE I STARTED TO RATTLE. IT WAS THE BEST DECISION I EVER MADE. I GRUNTED 3 TIMES AND THEN I LOOKED TO MY RIGHT AND HERE COMES THIS BUCK LIKE I HAD HIM ON A STRING. HE CAME WITHIN 25 YARDS TURN BROADSIDE AND THE REST IS HISTORY.

I HAVE BEEN TRULY BLESSED FROM THE MAN UPSTAIRS FOR ANOTHER ONE OF HIS GREATEST CREATIONS.SO THIS BUCK WILL AWAYS BE REMEMBERED TO ME AS MY RATTLE AND GRUNT BUCK A MEMORY THAT WILL LAST A LIFE TIME.
Join in and write your own page! It's easy to do. How? Simply click here to return to Buck Photo Submission.